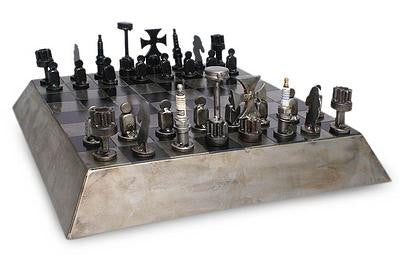 Battle On The Pyramid Chess Set
CALL NOW!  (727)-827-8268
Nicks. Dings. Scratches. Burns.  Chess is a warriors game and each of these rugged sets are custom made from real reclaimed car parts and retain their battle-weary charm. Queens are fashioned of screws and bearings, kings are cogwheels and metal scraps, while sparkplugs and other castoffs find a new life as sculpture. Combining art and function. Enjoy the relaxation and appreciate the care of the artist in each hand-made piece. Made to look rustic and used, this piece of art offers the satisfaction of knowing that no two sets are alike. This set makes a great gift for any occasion and looks stellar in almost any setting in any room!. Just Click to have yours now.
 Weight:
11.2 lbs
Chessboard: 2.8" H x 16.75" W x 16.75" D
Tallest piece: 3.2" H x 1" Diam.
Smallest piece: 1.3" H x 1" Diam.
Recycled metal
Features a rustic, rugged finish
Each work is unique. Recycled parts will vary from piece to piece based on availability.
-Shipping included in Price
---
We Also Recommend