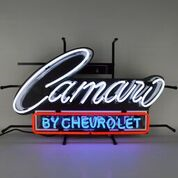 Camaro by Chevrolet Neon Sign
Decorate your den, office, bedroom, man-cave or garage the way YOU want it!!! (With her permission of course). With neon lights!! Match your theme with any of our awesome neon signs. Click to buy.
Our Neon Signs feature multi-colored, hand blown neon tubing. The glass tubes are backed by a beautiful full-color image, and the entire sign is supported by a black finished metal grid. The sign can be hung against a wall or window, or they can even sit on a shelf. These neon signs have a warm mesmerizing glow, and are powered by industrial strength transformers, which operate silently and more efficiently than incandescent bulbs. All you do is hang it up and plug it in – no assembly or special wiring required. Fully licensed by General Motors. For indoor use only.
Measurements: 17" H x 28" W x 4" D INCHES 
---
We Also Recommend