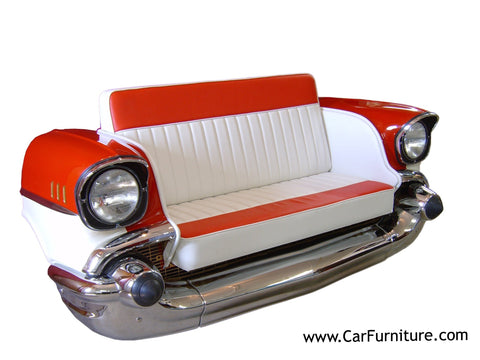 1957 Chevy Front End Couch Sofa
This is NOT a cheap plastic copy. This is the REAL CAR!
For the true Chevy enthusiast - check out this beautiful '57 Chevy sofa, created from a real front end and perfected to fit through most patio doors (depending on model). 
This Unique piece of furniture stands 36 inches tall and 74 inches wide, is made with real new and vintage car parts, and comes in a variety of color choices for paint and upholstery!!
The body paint comes red, black, white, pink, or turquoise.
The upholstery comes in black, red, tan, or white.
Please type your color choices in the Special Instructions box at the time of your order. 
We will call you with any questions.
Please allow approximately 12-16 weeks for delivery.
Shipping Included!
---
We Also Recommend