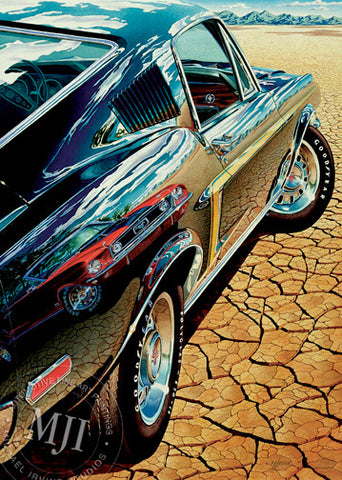 Desert Snakes
 This beautiful painting comes from one of our favorite artists! "Desert Snakes" is appropriately set against the scorching desert. This striking watercolor painting captures the aggressive lines of two of Ford's most powerful Mustangs, the 428 Cobra Jet-equipped 1968 fastback, and its convertible counterpart reflected in it's jet black surface. 
The artist uses, not only the depths of the fastback's body panels, but also the mirror-like chrome trim to reflect the red convertible again and again. The dry, cracked earth and dramatic sky stunningly contrast with the crisp, clean lines of these incredible muscle machines. Emblazoned on a Large Limited Gallery Edition Giclée Canvase, these impressive pieces are printed with high quality, heavy gauge, acid free archival canvas. Canvases have a special waterproof UV coating and are gallery wrapped on a hardwood frame—shipped READY TO HANG in North America, and ROLLED for International shipments.

 Gallery Edition Canvas Specially coated (waterproof, can be wiped down with damp cloth)

No frame or glass needed Ready to Hang (stretched/gallery wrapped) in North America.
Size: 36" x 50"

Limited Edition: 1 of 50 
---
We Also Recommend